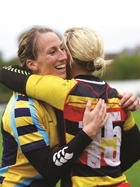 Equality Policy Statement
Chipping Norton RUFC recognises the importance of affording equity, equal opportunity and fair treatment to all present and potential employees and members.
Chipping Norton RUFC aims to ensure that all people, irrespective of their age, gender, ability, race, religion, ethnic origin, creed, colour, nationality, social status or sexual orientation, have a genuine and equal opportunity to participate in rugby union at all levels and in all roles. That includes participation as a beginner or experienced performer, and as a coach, official, referee, manager, administrator or spectator.

In its relationships with members, employees, and in its provision of services, It is the aim of Chipping Norton RUFC not to disadvantage any individual by imposing any conditions or requirements which cannot be justified. Failure to comply may result in disciplinary action being taken.

Chipping Norton RUFC will endeavour to provide competitions for persons of specific age, gender or disability groups where this is necessary to ensure equitable, safe and equal competition.

Chipping Norton RUFC expects all those acting on behalf of the organisation to adhere to this policy.

In pursuance of this policy Chipping Norton RUFC reserves the right to discipline any of its members or employees who practice any form of discrimination on the grounds of a persons age, gender, ability, race, religion, ethnic origin, creed, colour, nationality, social status or sexual orientation.

Roles and Responsibilities

It is the duty of all individuals and groups associated with Chipping Norton RUFC to avoid discriminatory practices themselves to condone and discourage discriminatory practices from others.
Chipping Norton RUFC will encourage those who wish to report instances of discrimination and provide a confidential process by which all discriminatory matters can be dealt with by means of the formal Complaints Procedure.
The Committee will be responsible for equal opportunity monitoring and the point of contact for those who may wish to discuss any discriminatory practice informally in the first instance.
Recruitment
Chipping Norton RUFC will offer equity for access to all its teams and will encourage the recruitment of players from the widest possible audience.
All players will be made aware of the Equal Opportunities Policy via the clubs website.
All materials used for marketing and promotional purposes will be subject to evaluation prior to issue to make sure that they do not contain anything which could be considered discriminatory or offensive to individuals or groups.
Reviewed August 2017